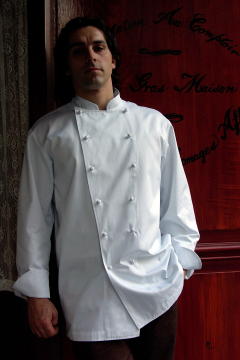 This week, Crooked Brook along with Brigade de Cuisine, will give away one men's chef coat , style BSM100, Size-46, White 100% Cotton Denim, Left shoulder sleeve tailored welt pocket, Faux MOP-A buttons ($135.00 value, including shipping).
The winner will be chosen randomly, from those who post a comment with the correct answer to this question;

what is the boiling point of water?

A) 120 degrees Farenheit
B) 212 degrees Celsius
C) 212 degrees Farenheit
D) 373 degrees Celsius

Contest ends midnight 06/20/11
Prize will be shipped to winner within 30 days of contest end.
You must be 18 years or older to win.
US recipients only and must reside in one of the 48 contiguous states.
If you have any questions regarding size, please refer to their size chart or contact them.
Since 1989 Crooked Brook has designed and manufactured men's and women's chef coats for the world's most recognized chefs. Each one of their chef coats and aprons is made to order in the USA, and can personalized with your choice of fabric, pockets, buttons, piping and embroidery.